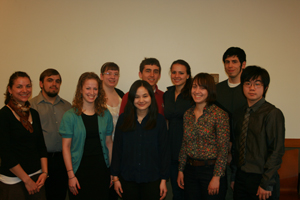 College Writing Program
Celebrating Student Writing
The College Writing Program holds an annual undergraduate writing contest to recognize and celebrate outstanding student writing and to share that writing with the University of Rochester community.

Each spring the College Writing Program accepts submissions from students in four categories:
Humanities
Social sciences
Natural and applied sciences
WRT 105/E
Submissions are reviewed by graduate student writing consultants and faculty members from across the disciplines. Prizes are awarded for the best paper in each of the four categories. Winners are also invited to read their papers at the Writing Colloquium Luncheon to share their outstanding work and be recognized for their contribution to the excellent student writing produced at the University.
Please check the College Writing Program news box for submission deadlines and further contest information. If you have any questions about the contest and how to submit a paper, please contact the writing center coordinator at cwc@mail.rochester.edu.
Past Winners and their Essays
Past Winners