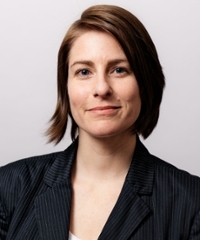 Liz Tinelli, PhD
Associate Professor
Graduate Writing Project Co-Coordinator
PhD
(585) 276-5279
liz.tinelli@rochester.edu
Office Hours: By appointment
---
Biography
Liz Tinelli is a lecturer for the Writing, Speaking, and Argument Program, co-coordinator of the Graduate Writing Project, and a PhD candidate at the Warner School of Education. Her undergraduate writing courses have focused on the use of social media and digital composition as a means to redress social injustice. More recently, class topics have included comedy and culture, and the role celebrities play in constructing societal norms. Her dissertation research examines the composing processes of first-year students, and seeks to overturn the deficit notions of composition students, namely that they "can't write", using a theory of literacy as social practice to highlight the complex rhetorical moves that students make during the composing process. She also works closely with Rachel Lee to design programmatic writing support for graduate students of the Arts, Sciences, and Engineering.
Selected Honors, Fellowships, and Professional Activities
Breadth Fellowship. Reasoning and Writing in the College. 2009-2011
College Teaching, Learning and Technology Roundtable Grant. Utilizing Collaborative Technologies to Support Student Learning in Writing. 2010-2011
Courses Offered (subject to change)
EDU 498:  Literacy Learning as Social Practice
WRT 105:  Reasoning and Writing in the College
WRT 103:  Critical Reading, Reasoning, and Writing
WRT 104:  Research, Reading, and Writing
WRT 101/102:  English for Academic Purposes, Speaking and Listening
WRT 108:  Workshop in Writing
Selected Publications
Luehmann, A. & Tinelli, L. (2008). Teacher professional identity development with social networking technologies: Learning reform through blogging. Educational Media International 45(4), 323-333.
Luehmann, A. & Tinelli, L. (2011). Supporting practicing science teachers' growth: The case of blogging in an action research seminar. In A. Luehmann & R. Borassi (Eds.), Blogging as Change: Transforming Education Through New Media Literacies. New York: Peter Lang Publishing.
Luehmann, A., Henderson, J., & Tinelli, L. (2013). Supporting Pre-Service Teachers' Development: The Place of Blogging in the Get Real! Science Teacher Preparation Program. In C. Lankshear, & M. Knobel (Eds.) A New Literacies Sampler.